St. Petersburg Aviation Week / Санкт-Петербургская Авиационная Неделя
Saint Petersburg, Russia, May 8th - 15th, 1910

The Kolomyazhsky Hippodrome airfield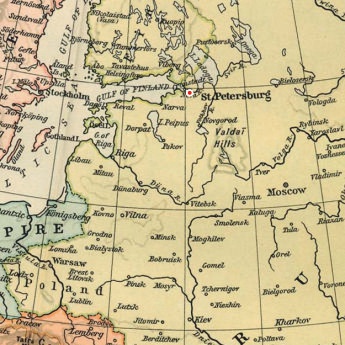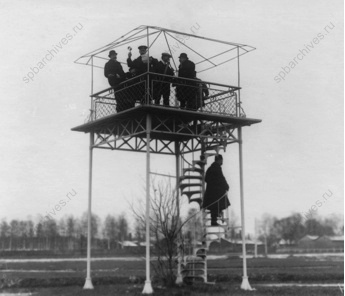 The Kolomyazhsky Hippodrome was situated north of central Saint Petersburg. It opened in 1892 and horse races were held there until the First World War. It was a popular place to visit and well served by tramways. It was used for flying experiments by the Russian Aero Club already in 1908 and French automobile racer and flyer Albert Guyot displayed his Blériot there in November 1909.
The measured course used for the competitive events of the meeting was laid out along the race track and was marked by three pylons, presumably at the apexes of the track's corners. It was 725 fathoms long, around 1,326 metres.
The times for official flights were between two and six o'clock in the afternoon on Sundays, and between five and nine o'clock on weekdays.
The May 1910 meeting was the last major aviation event held there. Later in the year a purpose-built airfield, the Komendantsky Aerodrome, was opened immediately to the west, on the other side of the Kolomyazhsky Prospekt.
The racecourse was closed after the revolution. The grandstands were demolished in 1919 and the other buildings were used as warehouses until the area was developed for housing. The neighbouring Komendantsky airfield continued to be used by the armed forces until it was officially closed in 1963, also to make place for the housing needs of the growing city.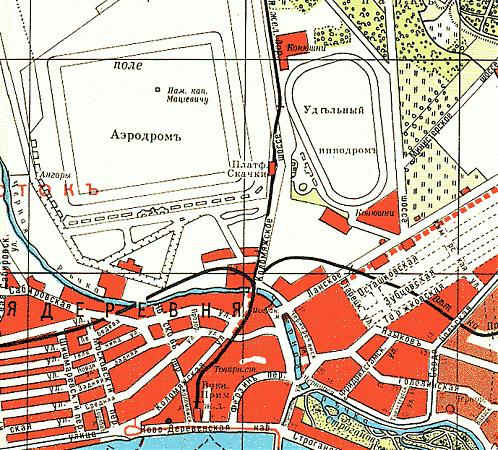 This map shows the location of the triangular race course of the hippodrome. Immediately on the west side of the Kolomyazhsky Prospekt is the rectangular Komendantsky Aerodrome, which was built later in 1910. (2)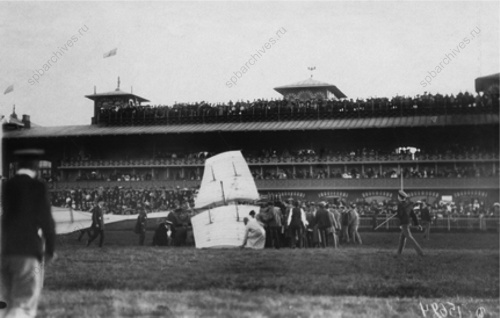 Wiencziers' crashed Antoinette in front of the beautifully decorated grandstands of the racecourse. (1)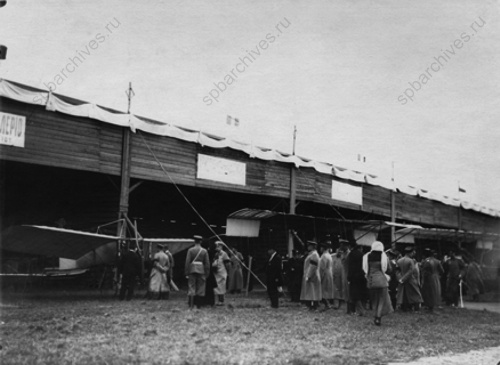 Visitors in front of the line of hangars. Morane's Blériot and Christiaens' Farman can be seen. (1)