The Dominguez Hill airfield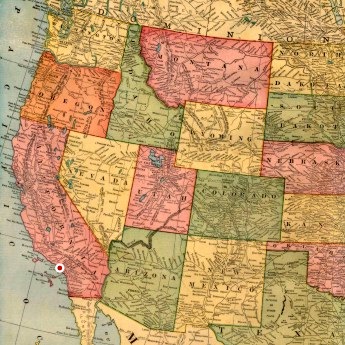 The Dominguez Hill airfield was located in Compton, around 20 kilometres south of central Los Angeles. It was situated on a low mesa west of Dominguez Junction, which was served by both trains and trams. The field was part of the large estate of the Dominguez family, one of the earliest land-owners of the area, who let it be used for free for the aviation meeting.
The field was not level, the western end was some 27 metres higher than the eastern. On its south side a big grandstand was built, more than 200 meters long and with a capacity of some 20,000-25,000 people. The field itself was prepared by harrowing and rolling. There were two courses, marked by pylons. One was a 2.592 km (1.61 miles) seven-pylon course for speed events, the other was a 4.442 km (2.761 miles) four-pylon course for endurance flying. Planes and airships were housed in tent hangars, some inside the course and some behind the grandstands.
The airfield was used for two more meetings, in December 1910 and in 1912. The site is today covered by streets and buildings and completely unrecognizable.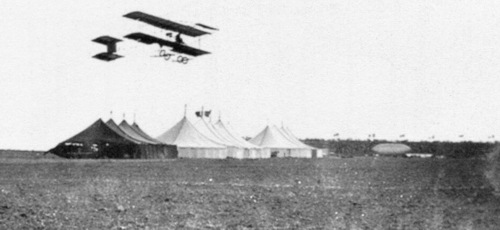 There were three big tents inside the course. The Curtiss team and the Paulhan team had one each, and local aviators had the third. (2)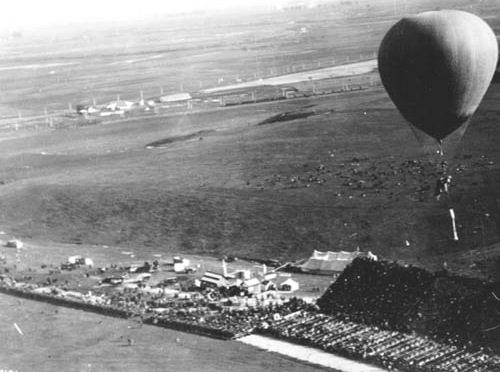 The western end of the grandstand and one of the secondary hangar tents behind it. These housed the dirigibles and the the planes of the less known aviators. (3)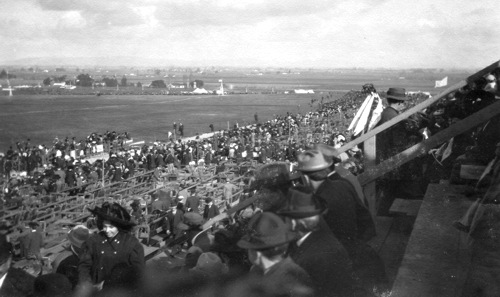 A view from the grandstand, looking down towards the reserved boxes in front of them. One of the pylons can be seen near the centre of the photo and another near the left edge. (3)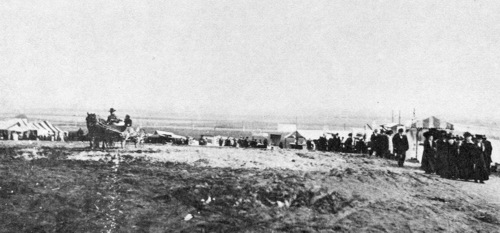 The concession area at the entrance to the airfield. (4)

Back to the top of the page