The Mondello airfield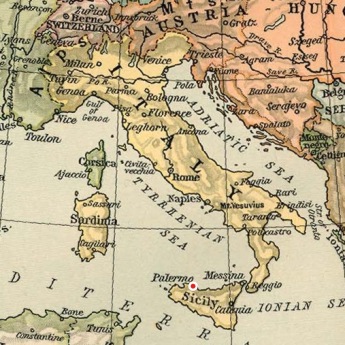 The airfield was located at the Bay of Mondello, which faces northeast and is dominated on the right by the 600 metre Monte Pellegrino and on the left by the hills of Capo Gallo. It was situated around 9 km north of central Palermo, but it was accessible by train and bus, as well as by sea.
Today the area is a seaside resort, but in 1910 a newly built canal, finished earlier in the year, had just drained the malaria-infested swamps of the bay and made it possible to develop the area. The canal, roughly parallel to the coastline, actually served as the border of the airfield.
A four-pylon course of around 1.5 kilometres was marked up. Each of the competitors was provided with a hangar, built of wood and fabric. The time-keepers were housed in a brick building, where also the signal mast for informing about events and results was arranged. Grandstands, a restaurant and several bars were also provided. In front of the grandstands were boxes with chairs that could be rented for four lire per day.