The Lyon-Villeurbanne airfield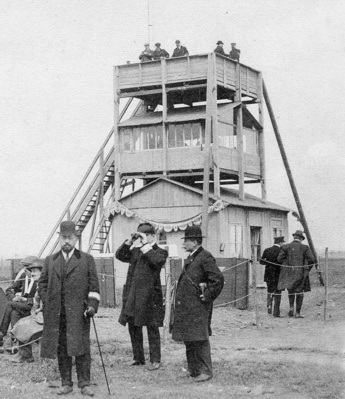 The 1910 Lyon aviation meeting was held on a temporary airfield in the commune of Villeurbanne, east of Lyon. It was a relatively small, almost rectangular field, bordered on the north by a railway, on the west by a fortification wall (which is now demolished and replaced by Boulevard Périférique Laurent Bonnevay, a part of the Lyon ring road) and on the south and east by local roads. The field was rented by farmers and right in the middle of it was the Bel-Air farm and its buildings. Winds from the east brought the odours from La Poudrette, an installation immediately to the east of the airfield where a powdered fertilizer was produced from excrements.
The airfield was well served by public transport, with the permanent tram lines supplemented by temporary bus services. The impressive line of buildings along the start/finish straight included two big covered grandstands, two simpler secondary grandstands, a smaller honorary grandstand, a press pavilion, a music pavilion and the main buffet restaurant, operated by Messieurs Berriat & Millet. Two more restaurants and at least seven bars were built inside the airfield, but there were also several outside the field in the neighbourhood, where even some farmers took the chance to make some money by opening temporary establishments. As usual there was a post and telegraph office, a kiosk for postcards and several other small businesses, for example florists and shoe-shiners.
There were eighteen hangars. They were all numbered, but rather confusingly not with the same numbers as the airplanes. Métrot, Latham and Paulhan each had two hangars, and Molon was also able to use a second, since there were not planes enough to fill all of them. The hangars were arranged at the start of the start/finish straight, so the flyers could start their take-off runs right from their hangars and lift off in front of the grandstands.
The course was only 1,666 metres long and around 200 metres wide. It was marked with pylons consisting of poles with cloth-covered balls. As usual in those days there was a time-keeper pavilion inside the course, opposite the start/finish line. The spectators were kept informed of the events by a signal mast of the type introduced at the 1909 Reims meeting.
The Villeurbanne airfield was only used for this single event. Six months later, in November 1910, a new airfield was opened at Bron, four kilometres to the south-east. This was the main airport of Lyon until 1975, when commercial airline operations moved to the new Satolas (now Lyon-Saint-Éxupery) airport, but it is still used for general aviation.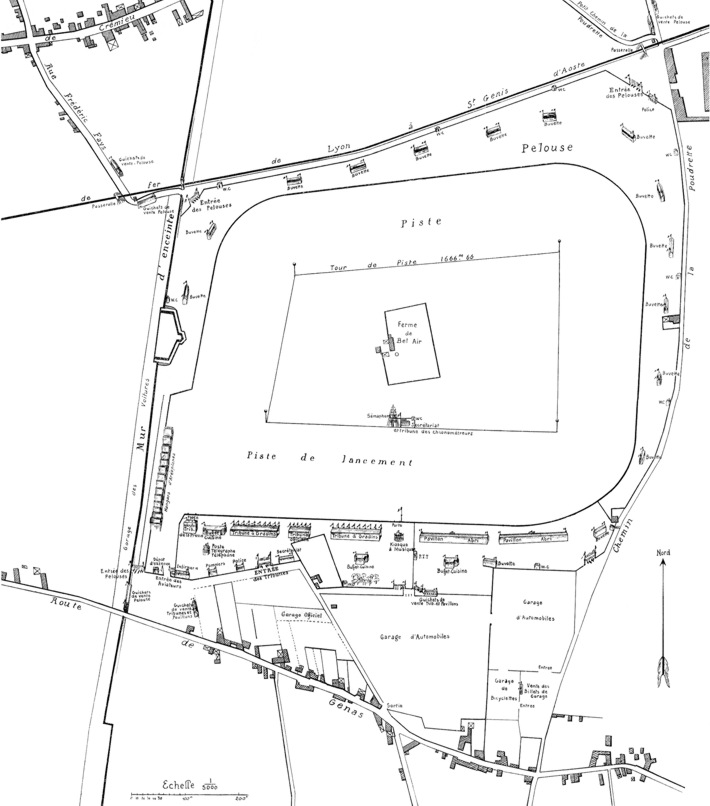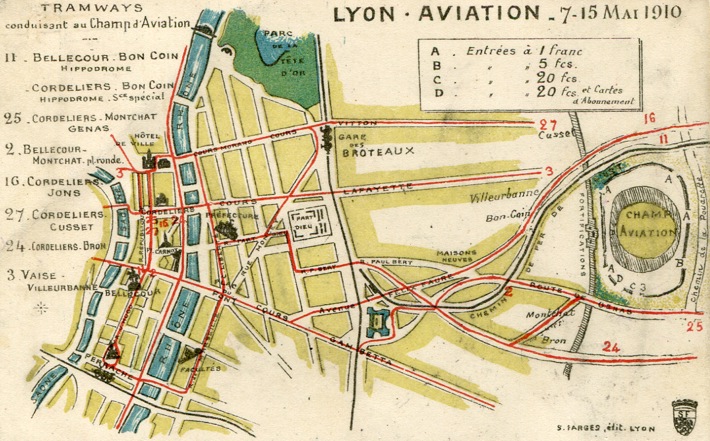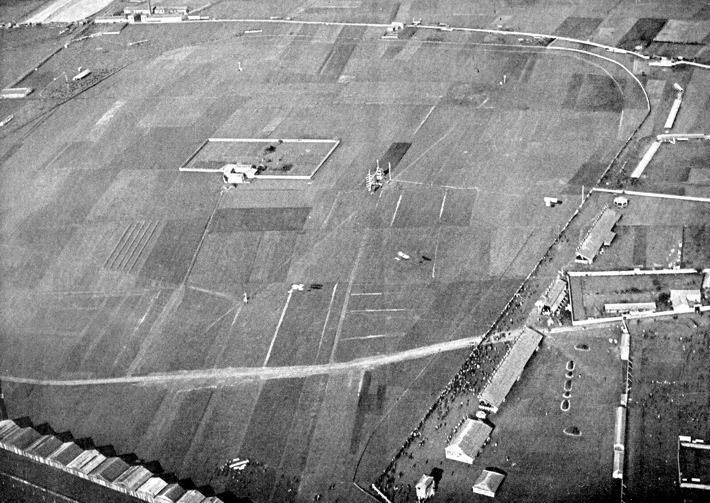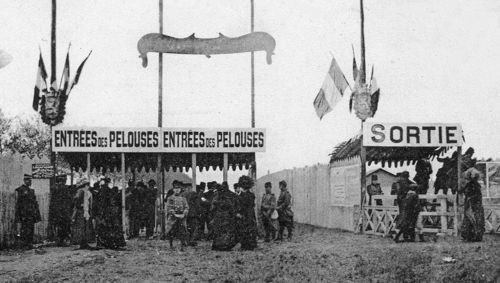 One of the entrances to the airfield. (3)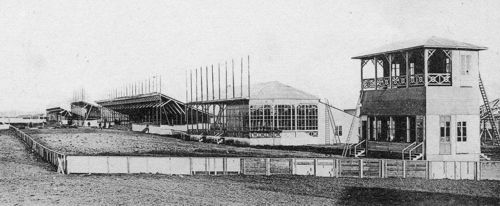 The western end of the line of buildings along the start/finish straight: Nearest the press pavilion, then the buffet restaurant, the first main grandstand, the honorary grandstand and the second main grandstand. (3)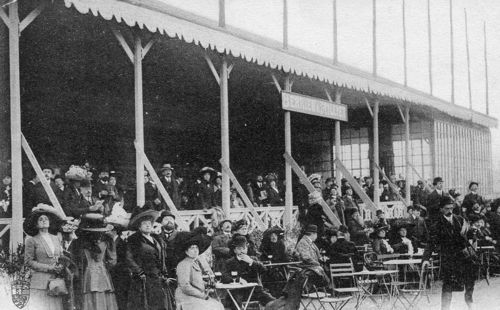 Elegant visitors in the main buffet restaurant, most of them looking skywards. (1)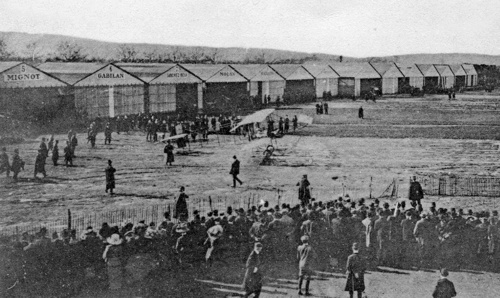 Legagneux in his Sommer ready for takeoff, with the line of hangars in the background. (3)