The 1909 Doncaster Town Moor airfield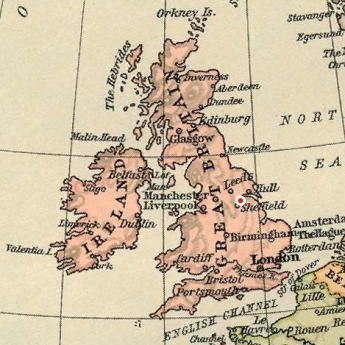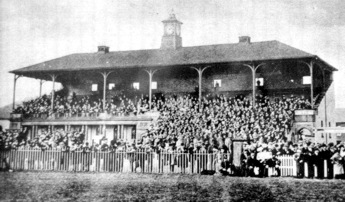 The 1909 Doncaster air races were held on the infield of the Doncaster Race Course, which is situated some 2 km to the east of the centre of Doncaster. It was, and still is, one of Britain's oldest and most important horse race courses, for example home of the famous "St Leger Stakes" race. On the site of the air race course is now the Doncaster Town Moor Golf Course.
The existing racecourse infrastructure was popular with the crowds and compared favourably with the windy, exposed fields used for most of the first air race meetings.
Different sources disagree about the exact layout and length of the course. "The Engineer" states that it was a seven-pylon course of 1 mile and 3 1/2 furlongs (1.4375 miles or 2.313 km). "Flugsport" states that the course length was 1 mile 860 yards (1.489 miles or 2.395 km). The race program shows a six-pylon course, and states that it is "about 1 1/2 miles". Calculations using the published time and speed of Delagrange's record lap give a course length of 1.486 miles or 2.391 km, which is within meters of Flugsport's figure.
During the meeting the FAI introduced a rule that course lengths should be measured along the inner boundary, i.e. pylon-to-pylon. At the Blackpool meeting this resulted in new, shorter course lengths being published. The introduction of the new rule might explain the discrepancy between the different course length figures.