The Angers-Avrillé airfield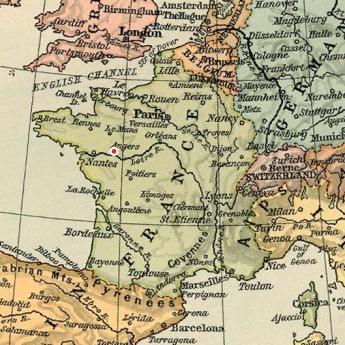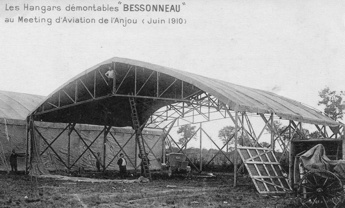 When it was decided, on February 8th, 1910, to organize an aviation meeting in Angers the first question to be addressed was to find an airfield. It had to be less than five kilometres away from the town and it of course needed to be big enough for a race course and all necessary installations. The only choice was the 50 hectare exercise grounds at Avrillé, which were eventually, after hard negotiations, made available by the military.
Representatives from the Aéro-Club de France visited the field on March 8th and gave their green light. The field was cleared from trees by soldiers from the 6th Engineer Regiment and work was completed by workers under management of Edmond Boyer, a local landscape architect.
As usual, all the installations for the 1910 meeting were temporary: Grandstands, time-keepers' pavilion, signal mast, bars and restaurants and miles of fences to keep non-paying spectators out. The field did, however, continue to be used. In 1912 it was used for the Grand Prix d'Aviation de l'Aéro-Club de France, an Angers-Cholet-Saumur-Angers cross-country race. The airfield was enlarged and the tree-lined road through its centre was removed. In 1913 it was decided to make it a permanent airfield for military and civilian use, and it was inaugurated on May 16th, 1914.
The airfield was used as a training centre for reserve pilots from 1920 and for civilian pilots from 1922. In 1937-1938 the flying school was greatly enlarged, with a big new main building. During WW2 the field was used by the German air force, which enlarged it further and built a concrete runway. It was bombed by Allied aircraft on August 15th, 1944. After the end of the war the school was closed and fell into neglect. The airfield continued to be used for commercial and general aviation until it closed in 1998. By then, the town had expanded and there was no room for necessary expansion. It was replaced by the newly built Angers Loire Aéroport in Marcé, some 20 kilometres northeast of Angers.
Today there is almost no trace of the Avrillé airfield. The only building left is the school building, which has been renovated. It is now called the "Maison de l'Architecture, des Territoires et du Paysage" and hosts several local organisations.
The Prairie du Breil, on the other hand, looks much the same as it did more than a hundred years ago...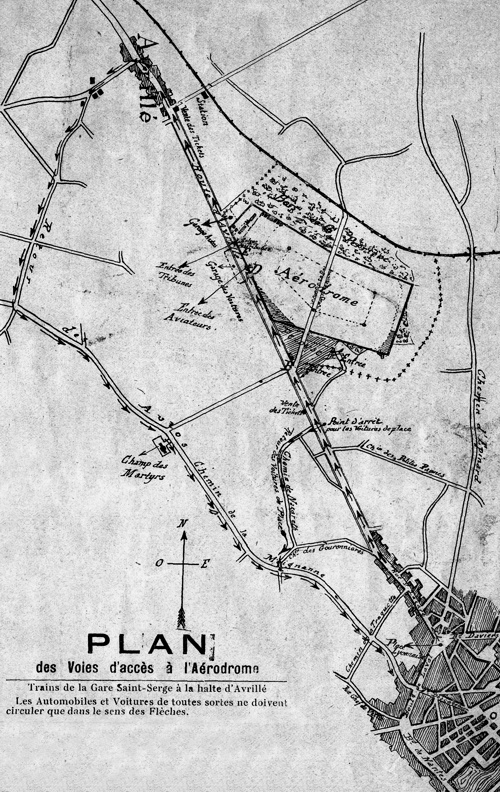 The position of the airfield in relation to Avrillé and Angers can be seen in this plan from the official meeting program. The river Maine can be seen right at the southeast corner of the image. (2)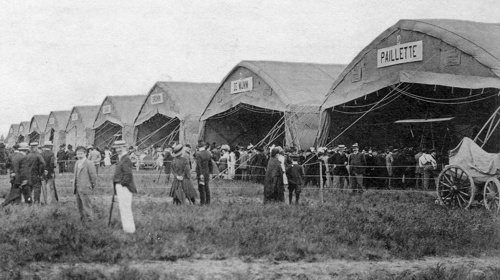 The line of nine hangars, one for each flyer. (3)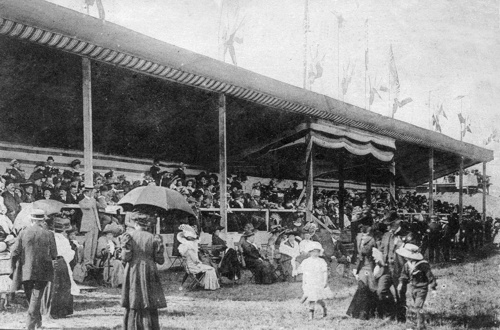 The grandstands, with the honorary tribune at the centre. (4)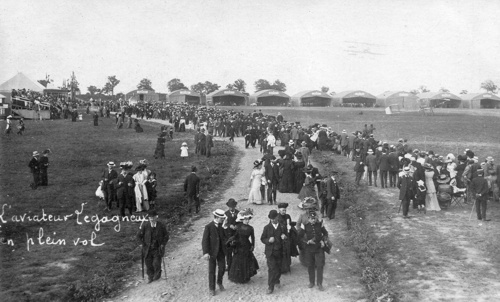 Well-dressed visitors at the airfield. The end of the line of grandstands can be seen at the left. "Legagneux in full flight" it says, but the faintly visible machine is a Farman. (4)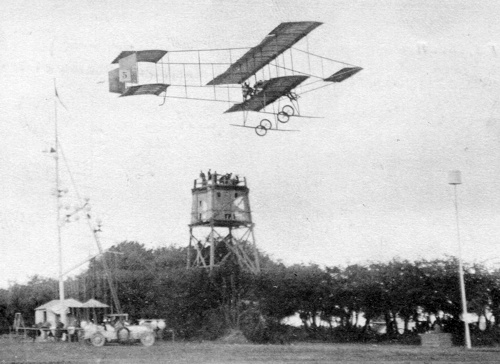 Martinet in his #5 Farman flying past the signal mast, the time-keepers' pavilion and a pylon. The pavilion stood in the middle of a tree-lined road that stretched across the centre of the airfield. (3)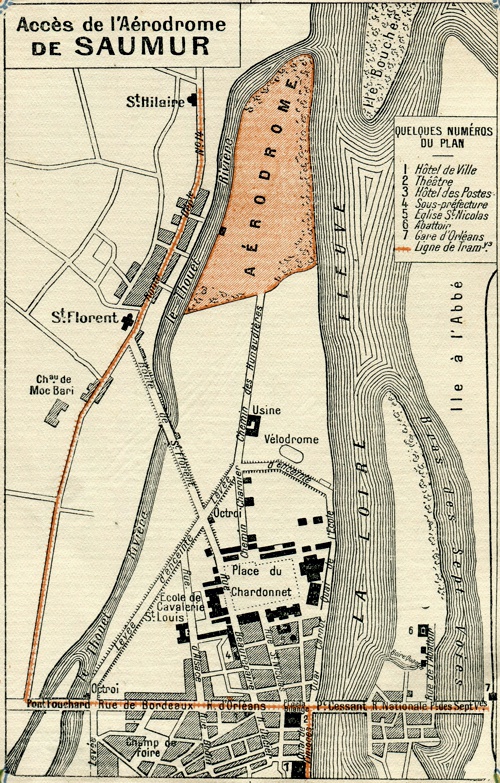 A map of the airfield at the Prairie du Breil in 1912 - it would have looked the same in 1910. North is at two o'clock. (5)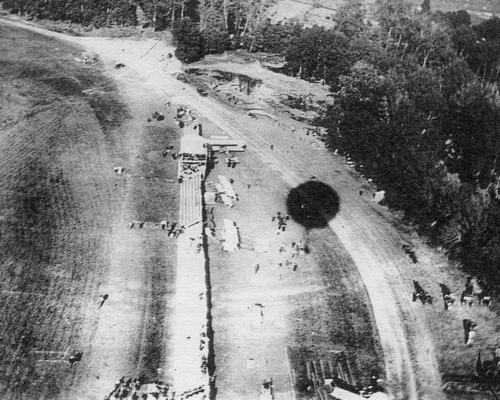 An overhead view of the planes of Martinet, Legagneux and Dickson at Le Breil after the finish of the Angers-Saumur race. The dark spot is the shadow of the balloon from which the photo was taken, 200 metres above the ground. (4)