The Wilrijkse Plein airfield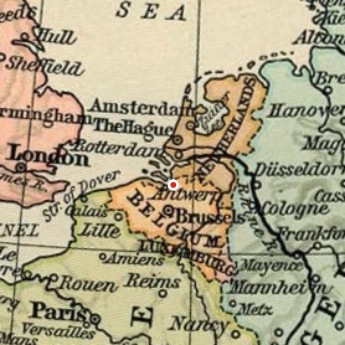 The Wilrijkse Plein was a military exercise ground, also used for horse racing, situated immediately south of the fortifications of Antwerp. The airfield covered an area of 1,200 by 1,800 metres, which was cleared from trees, hedges and ditches by army soldiers. A four-pylon course of one kilometre was marked up. Baron de Caters was very pleased with the airfield and stated that it compared very favourably with the other fields were meetings had been held in 1909.
As usual the airfield was surrounded by board fences in order to avoid non-paying spectators, except on the western side where hedges bordered the neighbouring Kruishof and Latinie parks, and the north side where the fortifications bordered the field. The walls of the fortifications could also be used by paying spectators. Grandstands and hangars were built on the west side of the field, eight airplane hangars and a big airship hangar for the "Zodiac III". On the south-east side of the field side was the "Dikke Mee", a popular restaurant with an amusement park for children.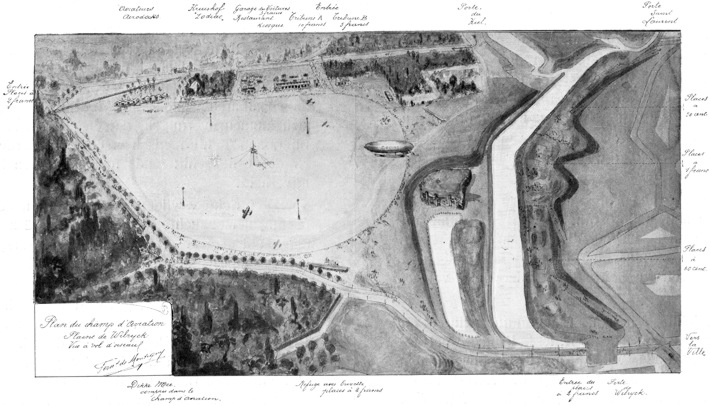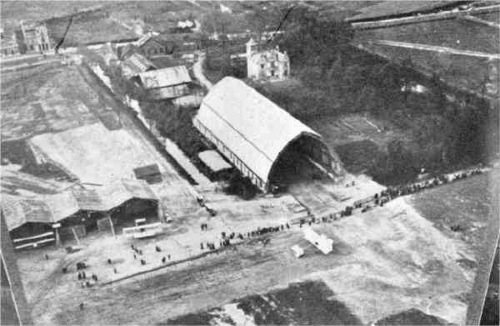 The big hangar for the airship "Zodiac III" and three of the eight smaller airplane hangars. The triangular fields in the lower corners of the image are frames from other images in the brochure where the photo was published. (1)