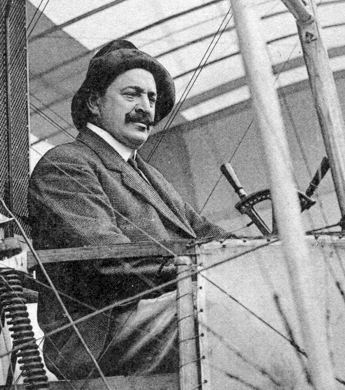 Henry* Fournier was born in on April 14th, 1871 in Le Mans. He and his two brothers learned about mechanics in the workshop of his father. Fournier was most famous as an automobile racer. He started his career racing motorcycles and driving pace motor-cycles for racing cyclists, particularly in the USA during the last years of the 19th century.

His big year as an automobile racer was 1901, when he won two Grands Prix, the Paris-Bordeaux and the Paris-Berlin, driving Mors cars. On October 30th, 1901 he made history as the driver of the car in what has been claimed to be the first collision between a car and a train, in Westbury, Long Island, USA. He briefly held the land speed record in 1902, with 123.28 km/h. He then retired from auto racing to concentrate on his dealerships for Hotchkiss and Itala cars, although he still appeared in a few races in 1907 and 1908, racing one of his Italas.

In November 1908 he claimed that "the days of auto racing are numbered" and that he would temporarily give up motor racing in favour of air racing. He was by then having a plane built by the Voisins. It was of course powered by an Itala engine, even though it was considered heavy for its power output. He learned to fly at Châlons-sur-Marne in July 1909, but with a weight of 105 kg (230 lb.) he was always handicapped as a pilot. He participated in the 1909 Reims meeting and the 1909 Grande Quinzaine of Port-Aviation, having accidents in both places, and in the 1909 Blackpool meeting, where he probably didn't fly at all.

He disappeared from the flying scene soon afterwards, returning to his automobile business. He appeared in some more races until 1914, but his health was deteriorating and he didn't get called to arms at the start of World War 1. Together with his brother Achille Fournier, he briefly tried his luck as a car manufacturer, before his death on December 18th, 1919.

He never qualified for a pilot's licence.

Henry Fournier participated in the following air race meetings:
Reims 1909
Port-Aviation October 1909
Blackpool 1909
* This was the spelling he used on his own machine, but "Henri" is used in many places.