The first two aviation meetings of Austria were held over four Sundays in July 1910. They were national meetings, restricted to flyers based at the Wiener Neustadt airfield, but this included most known Austrian constructors and pilots.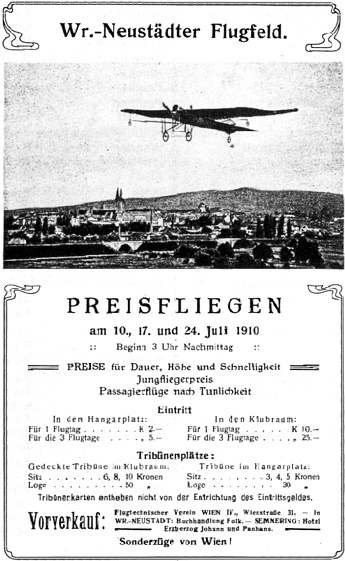 Ten pilots made flights, the most successful being brothers Adolf and Karl Warchalowski, Karl Illner on Etrich's Taube and Möve, Constantin von Economo on a Voisin and Wright pilots Vincent Wiesenbach and Stefan Petróczy von Petrócz.
We have unfortunately not found as many photos as we would have liked, so if you know of any good source of photos from the meetings you are welcome. As usual, all your feedback is welcome!
You will find the pages
here!
Anders
(Next stop: Baden-Baden, Germany!)