The Verona airfield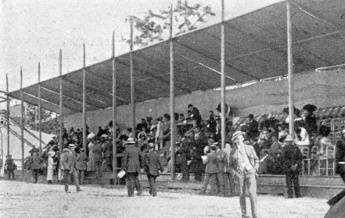 The airfield was built on the Piazza d'Armi, a military excercise ground two kilometres southwest of the city centre, outside the city gate Puorta Nuova and south of the Puorta Nuova railway station. The preparations were successfully carried out in short time, even though they required the demolition of an old fortress, built in the 1800s by the Austrians, and the removal of several railway tracks.
The airfield covered 65,000 square metres, was enclosed four kilometres of fences and it had a capacity of 100,000 visitors. The installations were typical of major meetings of the time, with grandstands and a full compliment of services, for example restaurants, bars, a souvenir shop, a Green Cross field hospital, post and telegraph offices and a 7,000 square metre parking lot with a capacity of 700 cars. A two-kilometre five-pylon course was marked up, and a signal mast kept the crowds informed about the events.
The airfield continued to be used by the Italian air force and was bombarded five times during WW1 by the Austrians. It was closed during the 1920s in order to make room for railway development.
Today there is no trace of the airfield, which is completely covered by the marshalling yards of Verona's main railway station Porta Nuova.